Swimming Pools in Singapore
How Many Swimming Pools are There in Singapore?
Singapore is one of the countries with the most swimming pools (private and public combined). With that many private condominiums, there is bound to have at least a pool in each of them. As for the public swimming pools, there are a total of 26 swimming pools all over Singapore.
Should That Be A Concern?
Swimming is a lifeskill. Somehow one day it can actually save your life. Not forgetting that we are surrounded by the sea and with that many swimming pools in Singapore, swimming is an absolutely need.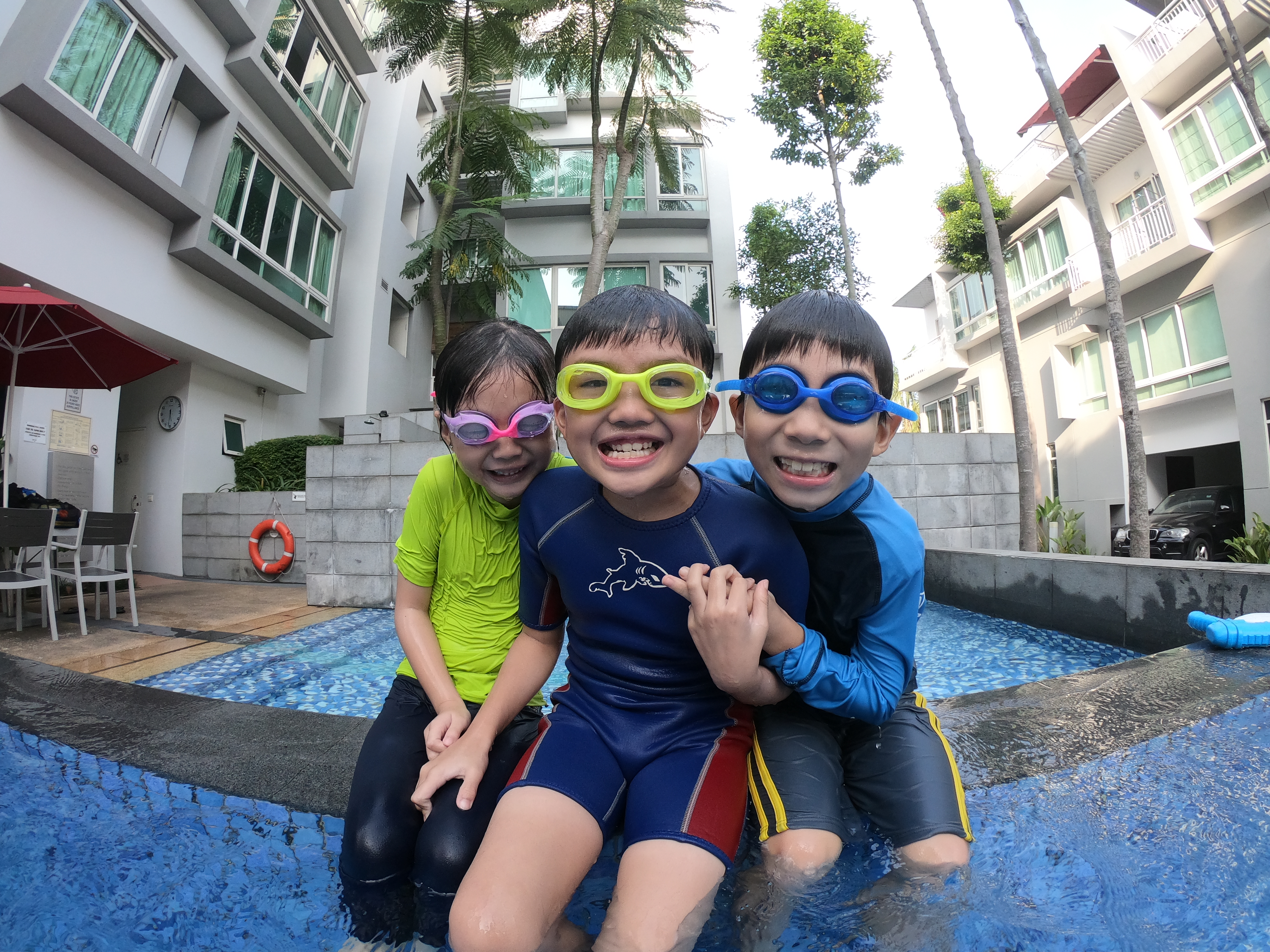 Helping Your Child To Overcome Their Fear Of Water
take it slow, small baby steps
prior to their lessons, bring them to the pool to let them adapt to the new environment
be encouraging be it any progress, constantly praise them for their effort
allow play time after their swimming lesson
Ang Mo Kio Swimming Complex
Operating Hours
Monday, Friday, Sunday
8am – 9.30pm
Tuesday, Thursday, Saturday
6.30am – 9.30pm
Wednesday CLOSED (except Public Holidays: 8am – 9.30pm)
Address
1771 Ang Mo Kio Avenue 1
Singapore 569978
Telephone Number: 64566821
Facility information:
1 Competition Pool
1 Teaching pool
1 Wading pool
Yio Chu Kang Swimming Complex
Operating Hours
Monday, Wednesday, Friday
6:30am – 9:30pm
Tuesday, Saturday, Sunday
8am – 9:30pm
Thursday CLOSED (except Public Holidays: 8am – 9:30pm)
Address
202 Ang Mo Kio Avenue 9
Singapore 569771
Telephone Number: 64819054
Facility information:
1 Competition pool
1 Teaching pool
1 Wading pool
Woodlands Swimming Complex
Operating Hours
Monday, Tuesday, Wednesday, Friday
6:30am – 9:30pm
Saturday, Sunday
8am – 9:30pm
Thursday CLOSED (except Public Holidays: 8am – 9.30pm)
Address
3 Woodlands St 13
Singapore 738600
Telephone Number: 62694192
Facility information:
1 Competition pool
1 Teaching pool
1 Wading pool
Kallang Basin Swimming Complex
Operating Hours
Monday, Friday, Sunday
8am – 9:30pm
Tuesday, Thursday, Saturday
6:30am – 9:30pm
Wednesday CLOSED (except Public Holidays: 8am – 9:30pm)
Address
23 Geylang Bahru Lane
Singapore 339628
Telephone Number: 62954261
Facility information:
1 Competition pool
1 Teaching pool
1 Wading pool
Geylang East Swimming Complex
Operating Hours
Wednesday, Friday, Sunday
8am – 9:30pm
Tuesday, Thursday, Saturday
6:30am – 9:30pm
Monday CLOSED (except Public Holidays: 8am – 9:30pm)
Address
601 Aljunied Avenue 1
Singapore 389862
Telephone Number: 67457175
Facility information:
1 Competition Pool
1 Teaching pool
1 Wading pool
MOE Evans Swimming Complex
Operating Hours
Monday – Friday
6pm – 10pm
Saturday
2pm – 10pm
Sunday/Public Holiday
8am – 10pm
Address
21 Evans Road
Singapore 259366
Telephone Number: 64688393
Facility information:
1 Competition Pool
1 Teaching pool
Jalan Besar Swimming Complex
Operating Hours
Thursday, Saturday, Sunday
8am – 9:30pm
Monday, Wednesday, Friday
6:30am – 9:30pm
Tuesday CLOSED (except Public Holidays: 8am – 9:30pm)
Address
100 Tyrwhitt Road
Singapore 207542
Telephone Number: 62939058
Facility information:
1 Competition pool
1 Teaching pool
1 Wading pool
Toa Payoh Swimming Complex
Operating Hours
Monday, Wednesday, Friday
6:30am – 9:30pm
Thursday, Saturday, Sunday
8am – 9:30pm
Tuesday CLOSED (except Public Holidays: 8am – 9:30pm)
Address
301 Lorong 6 Toa Payoh
Singapore 319392
Telephone Number: 62592916
Facility information:
1 Competition pool
1 Teaching pool
1 Wading pool
Heartbeat@Bedok ActiveSG Swimming Complex
Sengkang Swimming Complex
Operating Hours
Wednesday, Friday, Sunday
8am – 9:30pm
Tuesday, Thursday, Saturday
6.30am – 9:30pm
Monday
Full day closure for maintenance
Address
57 Anchorvale Road
Singapore 544964
Telephone Number: 63153574
Facility information:
1 Competition pool
1 Teaching pool
1 Wading pool
Katong Swimming Complex
Operating Hours
Thursday, Saturday, Sunday
8am – 9:30pm
Monday, Wednesday, Friday
6.30am – 9:30pm
Tuesday CLOSED (except Public Holidays: 8am – 9:30pm)
Address
111 Wilkinson Road
Singapore 436752
Telephone Number: 63449609
Facility information:
1 Competition Pool
1 Teaching pool
1 Wading pool
Serangoon Swimming Complex
Operating Hours
Tuesday, Saturday, Sunday
8am – 9:30pm
Monday, Wednesday, Friday
6:30am – 9:30pm
Thursday CLOSED (except Public Holidays: 8am – 9:30pm)
Address
35-A Yio Chu Kang Road
Singapore 545552
Telephone Number: 62884606
Facility information:
1 Competition Pool
1 Teaching pool
1 Wading pool
Pasir Ris Swimming Complex
Operating Hours
Monday, Friday, Sunday
8am – 9:30pm
Tuesday, Thursday, Saturday
6.30am – 9:30pm
Wednesday CLOSED (except Public Holidays: 8am – 9:30pm)
Full day closure for maintenance
Address
120 Pasir Ris Central
Singapore 519640
Telephone Number: 65838557
Facility information:
1 Competition Pool
1 Teaching Pool
2 Slides
1 Catchment Pool
1 Fun Pool/ Wading Pool
1 Jacuzzi
Swimming pool wheelchair access available
Tampines Swimming Complex
Operating Hours
Thursday, Saturday, Sunday
8am – 9:30pm
Monday, Wednesday, Friday
6:30am – 9:30pm
Tuesday (except Public Holidays: 8am – 9:30pm)
Full day closure for maintenance
Address
1, Our Tampines Hub, Tampines Walk,
Singapore 528523
Telephone Number: 63853718
Facility information:
1 Competition pool
1 Water Polo Pool
1 Teaching pool
1 Wading pool
1 Slide
Bukit Batok Swimming Complex
Delta Swimming Complex
Operating Hours
Under Renovation
Address
900 Tiong Bahru Road
Singapore 158790
Telephone Number: 64747573
Facility information:
1 Competition pool
1 Teaching pool
1 Wading pool
Jurong West Swimming Complex
Operating Hours
Thursday, Saturday, Sunday
8am – 9:30pm
Monday, Wednesday, Friday
6:30am – 9:30pm
Tuesday CLOSED (except Public Holidays: 8am – 9:30pm)
Closed for Maintenance
Address
20 Jurong West Street 93
Singapore 648965
Telephone Number: 65155332
Facility information:
1 Competition pool
1 Teaching pool
1 Wading pool
1 Slide

Choa Chu Kang Swimming Complex
Operating Hours
Wednesday, Friday, Sunday
8am – 9:30pm
Tuesday, Thursday, Saturday
6.30am – 9:30pm
Monday CLOSED (except Public Holidays: 8am – 9:30pm)
Full day closure for maintenance
Address
1 Choa Chu Kang Street 53
Singapore 689236
Telephone Number: 67671735
Facility information:
1 Competition Pool
1 Wave Pool
1 Wading Pool
1 Slide
1 SPA Pool
Jurong East Swimming Complex
Operating Hours
Wednesday, Friday, Sunday
8am – 9:30pm
Tuesday, Thursday, Saturday
6:30am – 9:30pm
Monday (except Public Holidays: 8am – 9:30pm)
Full day closure for maintenance
Address
21 Jurong East Street 31
Singapore 609517
Telephone Number: 65635052
Facility information:
1 Competition Pool
1 Wave Pool
1 Lazy River
1 Kiddy Pool
Stream Course
1 Mushroom
1 Jacuzzi
3 Water Slides (Yellow, Red & Blue)
Clementi Swimming Complex
Operating Hours
Wednesday, Friday, Sunday
8am – 9:30pm
Tuesday, Thursday, Saturday
6:30am – 9:30pm
Monday CLOSED (except Public Holidays: 8am – 9:30pm)
Address
520 Clementi Avenue 3
Singapore 129908
Telephone Number: 67762560
Facility information:

1 Competition Pool
1 Teaching Pool
1 Wading Pool
Outdoor Cardio Gym Equipment
Jurong Lake Gardens Swimming Complex
Operating Hours
Tuesday, Saturday, Sunday
8am – 9:30pm
Monday, Wednesday, Friday
6:30am – 9:30pm
Thursday CLOSED (except Public Holidays: 8am – 9:30pm)
Address
30 Yuan Ching Road, Singapore 618664
Singapore 618664
Telephone Number: 69701619
Facility information:
1 Competition pool
1 Teaching pool
1 Wading pool

Senja Cashew Swimming Complex
Operating Hours
Monday, Friday, Sunday
8am – 9:30pm
Tuesday, Thursday, Saturday
6:30am – 9:30pm
Address
101, Bukit Panjang Road,
Singapore 679910
Telephone Number: 68920858
Facility information:
1 Competition pool
1 Teaching pool
1 Wading pool